Personal trainers aren't limited to working in a gym. There are an amazing variety of places a trainer can work.
Where can personal trainers work?
Gyms and private fitness studios are obvious answers. However, a recent survey of NFPT trainers revealed that the list of places to include in a search goes way beyond gyms and private fitness studios.
Here are 9 places a trainer or fitness instructor could work you may have never considered.
Apartment Complexes
You have a concentrated, diverse group of people on site, possibly all eligible by residency to participate in your program. And the added level of convenience will be a great selling point to potential clients.
You can tailor special programs and boot camps based on the needs of residents. If you already have a niche, check into apartments that cater to your target clientele. You can find apartments for singles, retirement, assisted living, etc. Check with the complex's activity director or management team to find out information about getting on board.
Community Centers
Providing training and fitness programs at a community center provides a unique opportunity to make a positive impact on the community. You'll also work with a diverse group of people and age groups, depending on the center.
There are great possibilities, with some centers offering consultations, group fitness classes, personal training sessions, sports, and aquatics classes to their members. Some centers offer special events and clinics which can be great opportunities for you to promote your services and your brand.
In addition, you may qualify for extra perks. Every center will be different in policy, of course, but several offer free or reduced membership to all staff.
Online Training
Why it's so great: It's done online! Not only does that offer an added level of convenience for your clients; there's also this: Your reach is boundless, which means your potential client base is infinite. More?
With several fitness companies and trainers joining the streaming revolution, online training is gaining in popularity. You'll be keeping yourself competitive, and benefiting from the latest in fitness trends. If you record your sessions and market, you could continue to pull in revenue for work already done.
Outdoor Boot Camps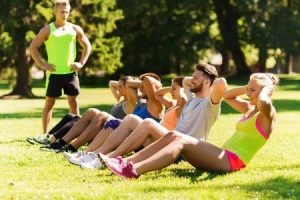 Working in the great outdoors with minimum overhead sounds wonderful. You design your own workout plan and provide as much or as little equipment as you choose. There is infinite class space, and each person doing sit ups on the lush, green grass is a paying client of yours.
There is also the added bonus of impromptu advertising. Park goers will notice your boot camp and might be interested in joining in!
Corporate Wellness
Working in a corporate environment gives you the ideal work hours! Other than that, you have the opportunity to create unique fitness programs that may not work in other facilities. Your sessions could include a Lunch and Learn series with a focus on topics of interest and importance to office building employees. A few topic examples include Stress Elimination, Keeping it Moving (while at the desk), and Proper Stretching Techniques.
You might also try a "Lunch and Move" series which can be more interactive and require mild physical exertion such as stretches. You might also consider offering boot camps for team building, or design an office-wide fitness challenge.
Resorts and Cruise Ships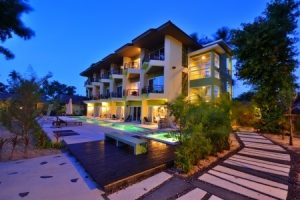 Here your clients are probably on vacation. They're in a positive state of mind. A great place to start.
Cruise ships will give you the chance to see the world, travel to beautiful and exotic places, and constantly meet new people. Plus, living aboard a cruise ship could give you the opportunity to make money and keep a good portion of those earnings in your pocket. Every company will be different of course, but some provide free accommodations and meals. And on the subject of meals, you'll have a vast array of foods to choose from.
Resorts offer their own package of perks. You'll work in beautiful surroundings, plus some resorts offer staff free or discounted room rates, club/gym memberships, and admittance to resort attractions. All while making bucks!
Athletic Performance Centers
If you are intense in your fitness mindset and want to surround yourself with clients who are most likely to be just as serious and eager to increase their performance as you are, you may have found your ideal setting. Each facility will be different, of course, but common session types include strength and core, endurance, power, and speed. You'll also aid in educating clients on injury prevention.
Love a particular sport? Some centers offer sports-specific programs for athletes training for the upcoming season. The list can include running, basketball, soccer, hockey, volleyball, swimming, golf, and beyond.
Client's Home
Training a client in their own home adds a layer of convenience and comfort. You'll set yourself apart market-wise, plus, if you're interested, you can target special populations who may be unable to easily travel.
Bonus idea: Perhaps your client would be willing to host a small fitness party and invite a few friends. Friends who just might become clients of yours.
Your Own Home Gym
If this doesn't epitomize working from home, nothing does! You'll have the equipment you want and need to design your fitness programs. Many big-box gyms won't stand for a trainer outside their own employ coming in to use the equipment to train someone, because they want clients to sign up with the trainers who work there! But, by having your own space at home, you'll still have access to the machines you need available for your clients. Plus, you save the overhead of renting a commercial space.
Keep in mind that many factors can come into play with this scenario. You'll need to do your due-diligence and check into insurance and your local laws and regulations on home businesses before you get started.
There's nothing wrong with training in a traditional gym. But hopefully your career horizons have been broadened. A career in personal training can be rewarding and fun. Pick your spot and go for it!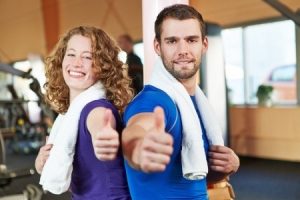 THINKING ABOUT A CAREER AS A PERSONAL TRAINER?
If you're not a CPT, yet, learn the ins and outs with us! We've put together this start-up guide to help you learn more about where you can work and tips from successful career trainers.
If you already know that you're ready for this, check out the detailed process for certification.