How much money can a personal trainer make? We've done the research, polled and surveyed and asked every trainer we know, so you don't have to. Consider your income potential based on our findings (and your own too), then decide if the next step for you is getting certified as a personal trainer and pursuing a fitness career.
Just about every prediction from every source will tell you that there are significant increases in industry growth and personal trainer demand, and it's all proven true. But you get to make the last call. If you're on the fence about seeking personal trainer employment or making an entrepreneurial decision, then let the facts, tips and tricks guide you in your journey …starting with how much trainers make.
How Much Do Trainers Make?
Pay for a certified personal trainer has increased significantly over the last several years. But there is no debate that the pay can vary from one trainer and one location to another, and it can vary a lot. Hourly rates range from $10 to $50 an hour. Annual salaries range from $28k to $81k. The median annual salary is $56,875.
Of course, there are many factors to consider when looking at pay scales for trainers, for example the work place (i.e. health club vs. private studio) can have a very large impact on the salary ranges.

According to the Bureau of Labor Statistics and industry data, employment opportunities for personal trainers and group instructors is expected to grow by 24% between the years of 2010 to 2020. Over the last few years, this expected growth rate has proven accurate with salary averages and job opportunities on the rise for fitness trainers.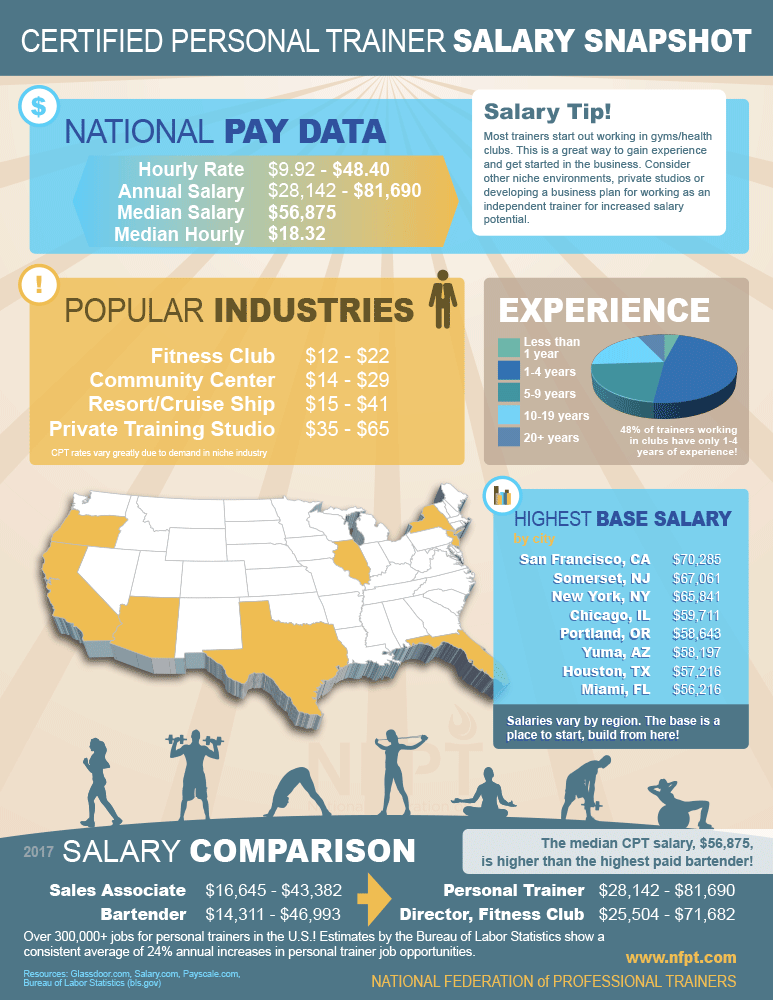 According to Payscale.com, the average compensation for a personal trainer (2017) in the U.S. is over $18 per hour, and compensation ranges typically fall between $10 to $49 per hour. Trainers working independently in their own or other private studio are much more likely to be at the high end of the range, with increased earning potential, between $35.00 – $65.00 or more an hour. Your take home will also depend on the arrangement that you have within your place of business. For example, you may be considered an employee, an independent contractor or a rent-by-the hour trainer – this will make a difference in how and how much you are paid as a trainer.
Personal trainer salaries vary based on many factors, including:
Geographic location
Education level
Certifications
Experience level
Specialization
Trends Contributing to Growth
Salary averages continue to improve in both public and private sectors as overall market exposure, demand for training services and employment opportunities continue to rise. It is important to note that training professionals who have multiple certifications and/or specialty level titles earn even more than those with one certification and limited personal fitness experience.

Businesses and insurance organizations continue to recognize the benefits of health and fitness programs for their employees. Corporate wellness programs can help employees prevent illnesses by encouraging them to live a healthier lifestyle. Employee incentives to join a gym or another type of health club increases the demand for personal trainers and other fitness professionals to enter into the marketplace. Some businesses are even taking their responsibility one step further by opening their own onsite facilities. Consider, as a certified personal trainer, how you may be able to offer your services within these onsite corporate efforts.
Other employment growth trends may come from a specific client demographic. Consider the continued emphasis on exercise to battle childhood obesity, or the aging baby boomer population who is encouraged to partake in a consistent training regime to stay as healthy and active as possible – both of these demographics are available and attainable in all communities.
Health Club vs. Private Studio Trends
There are many places to work as a personal trainer. Quite frequently, we suggest getting started as a personal trainer by working with a health club or fitness facility that offers marketing assistance and the benefits of additional resources that, as a new trainer, you may not have at your disposal. Trainers can learn a lot about the business side of personal training by working alongside PT Directors/Managers. Considerations for a move up the ladder may be a very worthy prospect.
Career advancement inside a health and fitness facility may come in the form of a head trainer, manager or director positions. Often times, health club hiring/promoting standards for lead positions will require you to have existing experience, appropriate certification/s/ and may require formal education in the form of a 2 or 4 year degree. Fitness professionals who have an exercise science related degree may earn 15% more than personal trainers who do not; but, keep in mind that your fitness education, experience and certification are as important as how well you can effectively perform the job, manage your personal training services, clients and overall business affairs.
Private studios can offer management direction and a focus strictly on personal training that a club business may not be able to provide. Many times, private studios can offer a more structured approach to training and provide guidance as you grow as an entrepreneur. While there may be more personal business responsibility within a private studio, for example you may be asked to pay rent and/or percentages as well as find and fund your own liability insurance, there are certainly benefits to this setting that are unique to it as well.
Independent Personal Trainers
Not all personal training clients want to join a club to keep up their fitness program. This may mean bringing the workout to them and it represents an emerging market for certified personal trainers. One of the most prevalent ways to do this is by making your personal training services portable. As the name suggests, this means being able to move your sessions around where needed, outside of a club setting, such as in a client's home, garage, even their backyard! You could consider bringing your services to local area small businesses where the desire for workplace wellness motivates in-office sessions.

If working independently is your goal, first consider and research existing supply and demand principles that apply specifically to your area and market.
How many clubs and private studios exist in your area?
What are the demographics of your market and fitness reach in your community?
How can you be a part of improving it?
How can you stand out?
Training Special Populations
While most trainers work with apparently healthy clients looking to improve their physical fitness levels and weight management, there is a growing trend suggesting that personal trainers are turning to specialized credentials in areas ranging from pre-and post-rehabilitation to working with competitive athletes and older adults. NFPT specialty credentials include nutrition, endurance and resistance training, with many other CE Courses for building onto your trainer skill set. Growing in your profession by continuing to educate yourself is a crucial part of skill set development and success in this industry.
Regardless of the path you choose, it is important to set short and long-term goals. Your salary as a personal trainer can be dependent on many factors, but one thing's for sure, you will serve you and your business well by having a focus on providing safe and effective fitness programming that gets your clients long term results. Your salary will in effect be dictated primarily by the quality of your work and the ability to manage your business/clients successfully.
Get The Facts
We've put together a comprehensive whitepaper as a trainer start-up guide with tips from successful career trainers.
Specifically you'll learn:
Your Expected Daily Routine

Your Career Options – Both Short Term and Long Term

Your Potential Income Over the Lifetime of Your Career

Self-Employment versus Outside-Employment

Lifestyle Changes and Time Commitments