Become an NFPT Education Partner
We provide a fundamental exercise science education that is user-friendly and prepares fitness enthusiasts for a foundational personal trainer certification that they can put to work immediately. When we partner together, we'll bring a shared desire to help your students achieve workforce experience in a field they love!
We make it easy to add Personal Trainer Education and Certification into your existing exercise science, therapy or health and wellness program.
All certifications are not created equal. NFPT offers the best start-up available. Whether or not you already have a structured fitness class and/or certification offering, you can add as much or as little of NFPT's education material to what you have already and the certification exam can be taken in your classroom or at a local computer based testing site.
PASSION MEETS PURPOSE
NFPT provides a back-to-basics approach to fundamental training methodologies. Speaking plain language with otherwise difficult concepts helps participants to put their skills to work, and helps clients to get lasting results from safe and effective workouts.
Most trainers don't start working in the field with an exercise science degree out of the gate, so we've developed our education material to be easy to follow and stimulating to read.
This Personal Trainer Manual isn't meant to sit on a shelf after achieving the certification, it is a day-to-day reference guide for implementing safe and effective workouts that are goal-oriented to the individual client.
As a school instructor or program coordinator, we would like to send you a complimentary copy of the NFPT Personal Trainer Manual for your consideration. We will include the Study Guide in hard copy as well. The Personal Trainer Manual and Study Guide will give you insight into the learning material and how you may incorporate these texts in your existing offerings.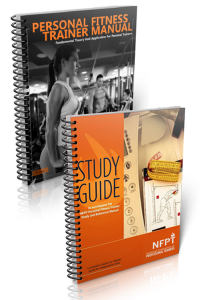 RECOGNIZED QUALITY AND CUSTOMER CARE EMPHASIS
The NFPT Personal Trainer Certification is accredited by the National Commission for Certifying Agencies (NCCA) and is recognized nationally and internationally as a leading certification provider for start-up trainers. NFPT is dedicated to customer care – we are not a call center, we are not a series of extensions – we are people here to serve the needs of program participants and we do it in a personal way. You'll experience the difference.
YOU ARE A PART OF MAINTAINING PROGRAM INTEGRITY AND QUALITY ASSURANCE!
If your organization works with NFPT as a NFPT Education Partner, you must adhere to following standards. These will be addressed within the terms of the NFPT Education Partner agreement. You may NOT:
– state or imply that your examination review courses and/or preparatory materials are the only means or NFPT's preferred method for preparing adequately for the NFPT certification exam
– provide or solicit any advantage to the student/participant which compromises secure exam administration and/or eligibility entry requirements of the NFPT certification program
– require that the student/participant make a purchase of the NFPT certification education materials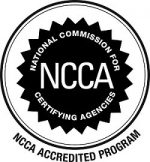 EASY TO IMPLEMENT, EASY TO FOLLOW
NFPT provides you with all the tools and resources for incorporating the NFPT Personal Trainer Education and Certification into your existing exercise science program. Our course is customized for your school's needs and can be built right into an existing school program or used to create a new school offering. Certification exam administration is also included in order that the student achieve their Certified Personal Trainer (CPT) credential and NFPT-CPT title.
NFPT course lesson plans and syllabus template (altered for the needs of your school) can be implemented in 6-10 week prep formats, or a full semester format if you are incorporating into a full semester course.
DISCOUNTED STUDENT CERTIFICATION RATES
NFPT provides the lowest cost for students available for CPT credentialing. Many students aren't sure of their eventual career path, so it is important that we give students a path towards making money in a field they love, without breaking the bank gaining the experience they need to get started. NFPT provides the student (and school staff) with EVERYTHING at a discounted rate of $249.
WHAT YOU GET
WHAT IT COSTS
Student Exam Voucher

Certification Exam Sitting

$249
Instructor Recruitment Assistance (if needed)
$0
Administrative, Technical and Education Support

NFPT Provides:

Trainer Manual and Study Guide (digital)
Exam Content Outline
Online Learning Portal
2 Practice Tests
Exercise Animations
Client Assessment Videos
Client Forms and Professional Documents

$0
Flyers for Students
$0
Syllabus and PP slides (by request)
$0
EXAM CONTENT THAT ASSESSES SKILL SETS
Personal Trainer Certification is achieved upon successful exam sitting. The NFPT-CPT exam assess students in 5 categories: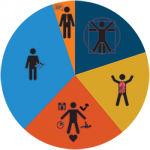 Anatomy
Physiology
Fitness Components
Developing, Implementing and Modifying Training Programs
Professionalism and Communication Skills
We will assist you with implementation of course material for exam prep and personal trainer success skills.
The NFPT Certification Exam can be administered at your school (by paper/pencil in a classroom setting) or at an existing NFPT Computer Based Testing location. NFPT Education Partners can become established exam sites, making the certification exam process as convenient as possible for your students.
NFPT Exam Quick Facts:
120 Multiple Choice Questions
2 Hour Time Limit
750 out of 1000 possible points to pass
1 re-test eligibility
Exam Content Outline provided
Student and Instructor receive all certification exam prep resources
PUTTING STUDENTS TO WORK BEFORE THEY GRADUATE
"We work with community colleges, universities and independent program providers to educate and train the trainer. I will personally help you to help your students. With our program in place, we can give students real-world experience before graduation, together. This will give your students a leg up on the skills that are required day-to-day on the job as a fitness trainer. I've been a student, a personal trainer, a college professor and a subject matter expert for a number of fitness certification agencies, I have the insight and experience to help you from start to finish, and all the steps in-between, for implementing this effectively in your school. But, even more than that, I look forward to helping students to gain applicable on the job experience that will put them to work immediately and then give them an advantage when pursuing any professional health and fitness career in the future. Personal Trainer Certification with NFPT is the start-up path that your students need to put their passion to work." ~ Dr. Erin Nitschke, NFPT Director of Educational Partnerships & Programs See some of our education partners >>
| WHAT YOU GET | WHAT IT COSTS |
| --- | --- |
| Student Exam Voucher | $249 |
| NFPT Education Resources | $0 |
| Instructor Recruitment Assistance (if needed) | $0 |
| Administrative, Technical and Education Support | $0 |
| Flyers for Students | $0 |
| Syllabus and PP slides (by request) | $0 |
WHO WE ARE
Since 1988, NFPT has been helping aspiring fitness enthusiasts to turn their passion to purpose. We've been supporting personal trainers for over 30 years, and we're just getting started!

NFPT was founded out of an injured Marine's road to recovery through fitness that lead to a personal training career. At that time, certification courses were clinically driven and not inline with the skills that the day-to-day trainer needs. We bring a real-world, trendy-free approach to fitness training. NFPT and the people behind it are different, we care and we want to help fitness enthusiasts to become fitness professionals. Together, NFPT and your school can get students to work before they earn their degree – giving them valuable experience that puts them a step ahead.
EDUCATION PARTNER INFORMATION PACKET
Ready to start the enrollment process?
Email NFPT at info@nfpt.com with information about you and your organization. Let us know what your goals are with this program and when you anticipate implementing NFPT curriculum into your class/course prep. Let us know if you would like a free desk copy of the NFPT Personal Trainer Manual and Workbook. A NFPT Team member will reply with details of the Education Partner Agreement and incorporation of NFPT course material.
Education Partners
Below are some of our most active Education Partners. Contact them at the phone# provided for referral or course registration information:
EDUCATION PARTNERS
Bellingham Technical College
Bellingham, WA
360-752-7000 (Instructor: Sarah Viera)
College of Southern Nevada

North Las Vegas, NV

702-651-4059 (Instructor: Miguel Fuller)
Ivy Technical Community College
Ft. Wayne, IN
888-IVY-LINE (Instructor: Mary Carbaugh)
Brookhaven Community College 
Farmer's Branch, TX
972-860-4700 (Instructor: Les Mankins)
Lord Fairfax Community College
Middletown, VA
540-868-7285 (Program Manager: Anna Teter)
Brookhaven Community College 
Farmer's Branch, TX
972-860-4700 (Instructor: Les Mankins)
Black Hawk Community College
Moline, IL
309-796-5000 (Instructor: Tina Hass)
Mars Hill University
Mars Hill, NC
866-642-4968 (Instructor: Joy Clifton)
Global Fitness Educators
Ft. Lauderdale, FL
954-882-1486 (Instructor: Felix Doval)
Fit and Functional
White Plains, NY
914-774-3644 (Instructor: Charles DeFrancesco)