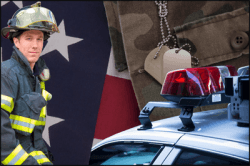 NFPT offers discounts to our men and women in military, fire, police and rescue service – we salute you! Thank you for committing yourself to the service of others in the work that you do everyday. We hope that this 15% discount will help put your fitness experience to work – choose your certification package and be on your way to getting certified today! NFPT is G.I. Bill approved for active or veteran military members (follow the instructions below to initiate that process); but, whether you are eligible for this or not, we give all Military, Fire, Police and EMT/Paramedics the same discount on both the Standard and Premier certification packages!
Get My Coupon Code:
Choose My Package:
G.I. Bill Approved:
Get Reimbursed for the NFPT – CPT exam sitting fee! Here's how:
Get your certification by passing the NFPT CPT exam.
Download and Complete VA Form 22-1990 or complete online: this form will get you into the military admin system as eligible and approved for benefits (for both active duty and veteran)
Download and Complete VA Form 22-0803 after you have successfully completed the CPT exam. You will submit this directly to Veterans Affairs upon receipt of your CPT credential. This will start the process for the reimbursement of the NFPT – CPT test fee. NOTE:Be sure to request reimbursement for the NFPT Certified Personal Fitness Trainer CERTIFICATION Test. If you fill out these forms for reimbursement for a "License", "School", or "College", you will experience approval delays.
For more information on G.I. Bill reimbursement and other FAQ, visit the V.A. website.
For a quick search of the NFPT WEAMS listing. Go to the WEAMS License/Certification Search: (L&C Name = "NFPT", Choose "Certification" in the drop down menu for "LAC Category Type")