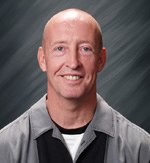 It was 1978 when Ron Clark, founder and CEO of National Federation of Professional Trainers (NFPT), was serving as a U.S. Marine Staff Sergeant and was shot through the arm, at the wrist, with a .50 caliber rifle during a long range training exercise. He was sent home from his base in Camp Pendleton, California, to his hometown of Lafayette, Indiana for rigorous therapy and rehab. It was during this time that Ron discovered his passion for fitness training, ultimately launching his career as a personal fitness trainer. He was already in great shape (he was a Marine, being in great shape is a must! Semper Fi!)
During recovery, he discovered a passion for dedicated training and a mindset to achieve greatness. Reaching his personal goals wasn't enough. He wanted to help others do the same. Ron knew he had caught the "fitness fever" and was determined to make it his life's work. He went on to earn multiple certifications, competitive bodybuilding titles (Mr. Indiana, Mr. Purdue, AAU and NPC), and opened his own personal training studio, The Fitness Clinic. Oh, and did we mention he's a retired fireman too?! NFPT started a long time ago with a heart for service and a spirit for making a difference in people's lives, and we continue doing this today.
READ MORE ABOUT NFPT'S HISTORY: 'A Road to Recovery that Advanced an Organizational Mission' >>
What NFPT does and why
We have been certifying personal trainers for over 30 years. NFPT trainers demonstrate the knowledge, skills, and abilities required of the fitness training profession – they demonstrate their on-the-job readiness by taking and passing the certification exam. We have positioned our organization as a foundational, fundamental certification for:
1) 1st-time trainers. Passionate people who want to make part- or full-time income in a field they love, or
2) already certified trainers. People who want to demonstrate an all-encompassing knowledge with education and certification from more than one organization. (Let's face it, trainers with more than one certification are more marketable and more likely to be promoted, get a raise, and/or have the skills needed to pursue private studio training).
We bring it back to the basics, results-based training, which sometimes simply means speaking plain language when talking about hard concepts. Often times the basics are overlooked, making goals harder and more frustrating to reach. The fitness industry ebbs and flows with trendy new ways to get fit and be healthy, but the ground level basics of why and how a person's health is improving have little to do with the latest trend.
NFPT stays focused on foundational exercise science principles that affect the most positive change.
What makes NFPT different?
Ron's journey as a personal trainer led him to discover the need for a personal trainer certification that is "real-world", applicable and also attainable for the person who may not have the technical background that certification agencies assume you already have. Ron wanted to teach people to teach others, and do it from a unique and engaging perspective that requires a love for fitness as a pre-req.
We take fitness passion and help make it a life purpose. We're a family owned and operated business who cares deeply about the successes of our certified trainers (and takes great pride in what they do to make a difference, every day). With NFPT, you're a person first, just like we're people here to help and support you in your journey.
Yes, we're accredited by the National Commission for Certifying Agencies (NCCA), and we were inducted into the National Fitness Hall of Fame for our history and work in the industry …but, that's not what makes us different – our people make us different.
Our family of NFPT staff takes care of our family of NFPT trainers.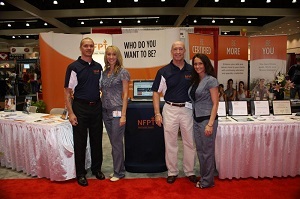 Our Mission
For 30+ years, the NFPT organization has offered a foundational education and credential to those who seek personal fitness trainer employment in gym facilities, private studios and other fitness capacities around the world. Currently, NFPT is working hard to enhance its continuing education offerings and to help personal trainers discover the value of professional development NFPT partners with organizations who have like missions and who stay true to their passion for helping personal trainers establish safe, productive and exciting fitness environments.
It is NFPT's mission to lead the personal training certification industry, through quality education and credentialing, into a future of public and government respect, trust, and confidence. As a professional fitness organization, it is our intention to provide start-up fitness trainers with the educational tools and exercise programming resources needed to develop and enhance performance skills for the safe and effective training of apparently healthy clients.
NFPT offers both education and certification for fitness professionals. As an agency that offers a professional certification program, we will continue to establish quality standards for fitness professionals and encourage ongoing professional development through recertification requirements.
NFPT educational programs are optional and are not a requirement to take the certification exam. NFPT's educational offerings are developed by the NFPT Board of Education. The NFPT Board of Education acts independently to develop and/or review and approve quality fitness education that teaches fundamental fitness concepts and exercise science, explained in a comprehensive way that speaks to the entry-level trainer and fitness enthusiast alike. It is the intention of NFPT education to create an impact on understanding and implementing goal-oriented fitness training methods that gain positive results on the well being of health conscious individuals.
The NFPT Certified Personal Trainer (CPT) certification program is designed to qualify personal fitness trainers working one-on-one with apparently healthy individuals or in small group settings. An apparently healthy individual includes those with no significant disease or physical condition or impairment which prevents them from engaging in physical fitness activity. NFPT Certified Trainers are individuals who demonstrate the understanding of fundamental exercise science principles for safe and effective fitness program design.
Mission Statement
NFPT has been certifying personal fitness trainers since 1988. Our organizational mission is to equip trainers and their clients with the education and tools that are needed to address America's growing health concerns, and to promote fitness around the world. NFPT provides fitness trainers with the educational tools and resources needed to develop and enhance performance skills for the safe and effective training of apparently healthy individuals in a one-on-one or small group setting. Performance and knowledge-based skills are assessed by a legally defensible certification exam which, upon successful completion, earns the individual a NFPT Certified Personal Trainer, CPT, title.
Our Objectives
To ensure an accredited and trustworthy credential with a legally defensible certification assessment
To provide a foundational, comprehensive, and applicable education
To provide an affordable, convenient and attainable certification process
To offer a well-respected and industry recognized Certified Personal Trainer (CPT) credential
To deliver certified member benefits that enhance personal trainer knowledge, outreach, and career development
To facilitate and encourage continuing education and specialty training for improved trainer proficiency
Our Team
Learn more about who we are behind the scenes
The NFPT Certification Council